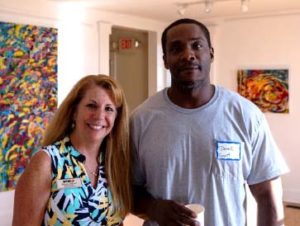 We are shouting Chamber Cheers! for new member Lowcountry Mechanical Heating and Air, owned and operated by Derek Grant, and for long-standing member WTOC, led by Sharon Ditrani. They met at a recent Coffee with Colleagues event, and Derek won a raffle prize donated by WTOC for $1,000 in free digital advertising. It was only Derek's second day being a Beaufort Chamber member, and the two were so grateful to make the connection. Now perusing the WTOC site, you just may see an ad for Lowcountry Mechanical, which will help Derek's new business grow. What a great story about the value of Chamber membership these community business owners showcase! Cheers!
Lowcountry Mechanical | 7835 E Main St, Ridgeland, SC 29936 | Phone: (843) 476-7482
WTOC | 11 The News Place, Savannah, GA | (912) 234-1111 | wtoc.com
To share your own story about making great connections through the Beaufort Regional Chamber of Commerce, contact Megan Morris at mmorris@nullbeaufortchamber.org.