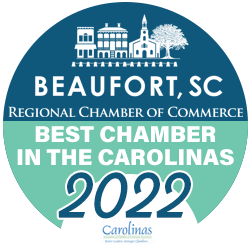 The Carolinas Association of Chamber of Commerce Executives (CACCE) recognized Beaufort Regional Chamber of Commerce as the 2022 Outstanding Chamber of the Year (for a chamber with under 700 members) at their Annual Management Conference awards ceremony.
The CACCE Outstanding Chamber of the Year Award recognizes significant achievements and accomplishments that a Chamber has initiated, stimulated, and/or led in its respective service area during the past 18 months. Award winners are selected based on a competitive application process judged by peer chamber leaders. More than 150 Chambers from across North and South Carolina were eligible to apply.
"This recognition by peer Chambers of Commerce is a testament to everything we've done together over the past few years. It is a team win that would not have been possible without the hard work and dedication of the Chambers' members, leaders, and partners," says Ian Scott, President and CEO.
The Beaufort Regional Chamber was recognized for its overall performance, and specifically for work in these key areas:
Development and execution of new and strategic plan focused on building economic prosperity and supporting local business
State and local advocacy on behalf of businesses
New programs focused on key issues affecting member businesses
Compilation of economic data uniquely reflecting its region
Growth in membership and member services provided
"It is incredibly gratifying to be recognized for the recent achievements of our Chamber," says Board Chairperson Jennifer Tuckwiller, "We are even more excited to use this momentum for the great things to come; including projects like the Defense Community Partnership Project through the Chamber's Military Enhancement Committee."