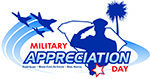 On August 24, 2019, the Beaufort Regional Chamber of Commerce will host the annual Military Appreciation Day. This is our opportunity, as a community, to say "thank you" to our local military. The event is FREE for all active duty military, retired military, and their families. There will be free food, t-shirts and swag, games, activities, and music!
In 2018, our annual Military Appreciation Day hosted over 400 attendees and had over 35 sponsors! The Beaufort Regional Chamber of Commerce relies heavily on many different veteran, civic and youth organizations, and sponsors to make this event happen.
Sponsorships are now available for Military Appreciation Day 2019. We welcome you to be a part of this annual tradition! Learn more about sponsorship opportunities here, or email Hello@nullBeaufortChamber.org for more information.
We hope to see you!
August 24, 2019
11:00 am – 2:00 pm
Atlantic Marine Corps Communities @ Tri-Command Welcome Center
600 Laurel Bay Road
Beaufort, SC  29906